This is part 5 of my Learning Swift Calculator App.
This update is mostly about the code structure and design decision about the calculator and its behavior.
Technical lessons learned:
Adding variable values in the middle of the string is so much easier using the following format – "blah blah blah and I am going to add /(variable) in the middle of it" Â Assuming that variable:String = "some words" then the previous string becomes "blah blah blah and I am going to add some words in the middle of it"
Be careful when modifying IBOutlets. Â Renaming it in Viewcontroller.swift does not modify the IBOutlet link (in the Storyboard). Â You have to relink it. Â The error given by xCode is not particular helpful either.
Design lesson learned:
Contextual buttons would make the code so much cleaner, but calculators have been around so long that people expect certain behaviors.

An example of what I mean by contextual button is this: after pressing = it would make it much clearer to the user what the calculator is actually doing if the equal button disappeared. Â However, many of us have come to expect the equal button to mean, repeat last operation. Â So, if you press 1+1= (the calculator shows 2), then if you press = again, the calculator will show 3.
After spending a few hours banging my head against some weird behavior, I started from scratch with a state diagram.
The general gist is as follows: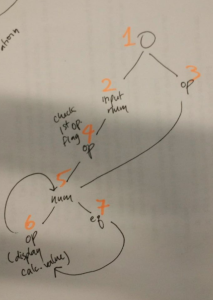 This is generally being modeled after the OS X calculator. Â The tricky part is that the operators (+,-,x, etc.) do different things depending on what the user input was previous to pressing the operator buttons. Â If a user presses + after a calculation already took place, the calculator is essentially doing a = and then + presenting the user with the calculated value, then getting ready to accept the next input value. Â This is completely different from my original design, where I took a string and processed the calculation when the user pressed =.
I've already spent a few hours on this logic and it's much more complicated than I thought.
Here's the code so far. Â Still very buggy.
//
//  ViewController.swift
//  Calculator
//
//  Created by Jin S. An on 10/1/14.
//  Copyright (c) 2014 jinsungpsu.com. All rights reserved.
//

import UIKit

class ViewController: UIViewController {
    
    @IBOutlet var calcDisplay1: UITextField!
    @IBOutlet var calcDisplayOp: UITextField!
    
    var clearDisplay:Bool = false
    var firstOp:Bool = true
    var num1:Float = 0.0
    var num2:Float = 0.0
    
    
    @IBOutlet var btn01: UIButton!
    @IBOutlet var btn02: UIButton!
    @IBOutlet var btn03: UIButton!
    @IBOutlet var btn04: UIButton!
    @IBOutlet var btn05: UIButton!
    @IBOutlet var btn06: UIButton!
    @IBOutlet var btn07: UIButton!
    @IBOutlet var btn08: UIButton!
    @IBOutlet var btn09: UIButton!
    @IBOutlet var btnDecimal: UIButton!
    @IBOutlet var btn00: UIButton!
    @IBOutlet var btnEqual: UIButton!
    @IBOutlet var btnClear: UIButton!
    @IBOutlet var btnPlus: UIButton!
    @IBOutlet var btnMinus: UIButton!
    @IBOutlet var btnMultiply: UIButton!
    
    override func viewDidLoad() {
        super.viewDidLoad()
        // Do any additional setup after loading the view, typically from a nib.
        btn01.showsTouchWhenHighlighted = true;
        btn02.showsTouchWhenHighlighted = true;
        btn03.showsTouchWhenHighlighted = true;
        btn04.showsTouchWhenHighlighted = true;
        btn05.showsTouchWhenHighlighted = true;
        btn06.showsTouchWhenHighlighted = true;
        btn07.showsTouchWhenHighlighted = true;
        btn08.showsTouchWhenHighlighted = true;
        btn09.showsTouchWhenHighlighted = true;
        btn00.showsTouchWhenHighlighted = true;
        btnDecimal.showsTouchWhenHighlighted = true;
        btnEqual.showsTouchWhenHighlighted = true;
        btnClear.showsTouchWhenHighlighted = true;
        btnPlus.showsTouchWhenHighlighted = true;
        btnMinus.showsTouchWhenHighlighted = true;
        btnMultiply.showsTouchWhenHighlighted = true;
        self.view.backgroundColor = UIColor.lightGrayColor()
    }

    override func didReceiveMemoryWarning() {
        super.didReceiveMemoryWarning()
        // Dispose of any resources that can be recreated.
    }
    
    func digitPressed(buttonPressed: String) {
        if (calcDisplayOp.text != "") {
            firstOp = false
        }
        if (clearDisplay == true){
            calcDisplay1.text = ""
            clearDisplay = false
        }
        calcDisplay1.text = (calcDisplay1.text as NSString)+buttonPressed
    }
    
    func calculateValue(op: String, n1: Float, n2: Float) -> Float{
        var calculatedValue:Float = 0.0
        switch (op) {
            case "+":
                calculatedValue = n1 + n2
            case "-":
                calculatedValue = n1 - n2
            case "*":
                calculatedValue = n1 * n2
            default:
                calculatedValue = -9999.9999
        }
        return calculatedValue
    }

    
    func operatorPressed(buttonPressed: String) {
        calcDisplayOp.text = buttonPressed
        
        if (calcDisplay1.text == "") { // if user press op before any digits, then assume that num1 = 0
            
        } else { // this means that there is a number on display that the next operation needs to do something against.
            if (firstOp == true) { // this is the first operation... don't present a calculated value until 2nd input from user
                num1 = (calcDisplay1.text as NSString).floatValue
            } else { //
                num2 = (calcDisplay1.text as NSString).floatValue
                calcDisplay1.text = "\(calculateValue(buttonPressed, n1: num1, n2: num2))"
                num1 = num2
            }
        }

        clearDisplay = true
        
        /* CASES

        EXPECTED CASE:
        
        THERE IS A NUMBER ON THE DISPLAY, OPERATOR 
        
        
        ERROR CASES:
    
        NOTHING ON THE DISPLAY, USER PRESSES AN OPERATION (OS X CALCULATOR ASSUMES FIRST NUMBER IS 0)
        
        
        AMBIGUOUS CASES:
        
        USER PRESSES AN OPERATOR FOLLOWING AN OPERATOR (OS X CALCULATOR OVERRIDES OPERATOR WITH LATEST PRESSED)
        
        
        
        */
    }
    
    @IBAction func calcEqual(sender: AnyObject) {
        var currOp:String = calcDisplayOp.text
        calcDisplayOp.text = "="
        
        num2 = (calcDisplay1.text as NSString).floatValue
        calcDisplay1.text = "\(calculateValue(currOp, n1: num1, n2: num2))"
        num1 = num2
        
        firstOp = true
        
        clearDisplay = true
    }

    @IBAction func calc01(sender: AnyObject) {
        digitPressed("1")
    }
    @IBAction func calc02(sender: AnyObject) {
        digitPressed("2")
    }
    @IBAction func calc03(sender: AnyObject) {
        digitPressed("3")
    }
    @IBAction func calc04(sender: AnyObject) {
        digitPressed("4")
    }
    @IBAction func calc05(sender: AnyObject) {
        digitPressed("5")
    }
    @IBAction func calc06(sender: AnyObject) {
        digitPressed("6")
    }
    @IBAction func calc07(sender: AnyObject) {
        digitPressed("7")
    }
    @IBAction func calc08(sender: AnyObject) {
        digitPressed("8")
    }
    @IBAction func calc09(sender: AnyObject) {
        digitPressed("9")
    }
    @IBAction func calcDecimal(sender: AnyObject) {
        digitPressed(".")
    }
    @IBAction func calc00(sender: AnyObject) {
        digitPressed("0")
    }
    @IBAction func calcPlus(sender: AnyObject) {
        operatorPressed("+")
    }
    @IBAction func calcMinus(sender: AnyObject) {
        operatorPressed("-")
    }
    @IBAction func calcMultiply(sender: AnyObject) {
        operatorPressed("x")
   }
    @IBAction func calcClear(sender: AnyObject) {
        calcDisplayOp.text = ""
        calcDisplay1.text = ""
        calcDisplayOp.text = ""
        num1 = 0;
        num2 = 0;
        firstOp = true
        clearDisplay = false
    }
}